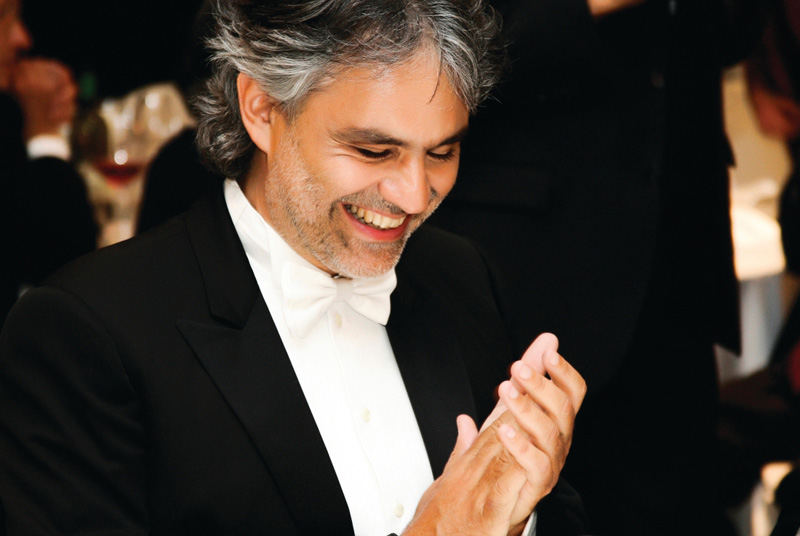 Bocelli is one of opera's most important innovations. Just when we were reading and talking about reports of the demise of the operatic genre, with theatres dismally half empty, with the slump in record sales, with the virtual disappearance of opera from television schedules, suddenly the tenor Andrea Bocelli, a modern tenor in the old style as he likes to describe himself, appeared on the scene. His musicality combined with highly personal and persuasive vocal colour, and perfect diction, tinged with a subtle, barely-concealed melancholy goes straight to the hearts of the listeners and is the reason for his spectacular success.
After studying under the expert guidance of Maestro Luciano Bettarini, teacher of many great names including Ferruccio Tagliavini, Ettore Bastianini and Franco Corelli, Bocelli attended a masterclass in Turin with Franco Corelli. The Pisa-born tenor made his stage debut in Verdi's Macbeth in 1994, with performances in Pisa, Mantova, Lucca and Livorno, under Claudio Desderi. This decisive debut was followed by the CD Viaggio italiano with Vladimir Fedoseyev, released through Sugar in 1995. The first wholly operatic concerts of international importance were at Cagliari and at the Puccini Festival at Torre del Lago in summer 1997; on this occasion Bocelli sang arias and duets from Madama Butterfly and Tosca and, responding to rapturous applause, gave an encore of the "9 Cs" aria from La fille du régiment.
In 1998 he made a second stage debut, this time in Cagliari, in the leading role of Rodolfo opposite Daniela Dessì in Puccini's La Bohème, conducted by Steven Mercurio. The opera, which he tackled with extraordinary commitment, was an even more important stage on Bocelli's journey to dramatic and vocal maturity. The same year he joined Zubin Mehta for a major concert in Tel Aviv and he saw the release of the album Verdi's Aria, one of the biggest classical successes of all time.
His debut at the Arena di Verona came in 1999, when he made a guest appearance in Lehár's Merry Widow, conducted by Anton Guadagno. In October of the same year, he made his US debut in Massenet's Werther in Detroit, with Steven Mercurio on the podium and Denyce Graves in the role of Charlotte.
Since then the Bocelli myth, reinforced by his enormous success as a recording artist, has grown out of all proportion. Alternating on the podium for his concerts are superstars like Lorin Maazel (Classical tour, Munich 1999 and Verdi's Mesa da Requiem, Verona 2000 and Munich 2001), Seiji Ozawa (Paris 2000), Valery Gergiev (Verdi's Messa da Requiem recorded in London, 2000) and again Zubin Mehta (Tel Aviv 2000). Bocelli's close collaboration with Myung-Whun Chung, Principal Conductor of the Orchestra dell' Accademia Nazionale di Santa Cecilia in Rome culminated with the release of the Sacred Arias CD and major events broadcast worldwide.
January 2001 saw Bocelli's first appearance on stage at Verona's Teatro Filarmonico in the title role of Mascagni's L'amico Fritz, a role particularly well-suited to Bocelli's vocal talents, since it demands a very special kind of "tenore di grazia" with an extensive range and unusually polished timbre. In summer 2002, he made his debut as Pinkerton in Madama Butterfly at Torre del Lago. In the autumn of 2003, his classical recording career continued when he joined forces with Lorin Maazel to release Sentimento, an album of songs exploring the early twentieth century musical tradition of songs for voice and violin. In Autumn 2003 his Album Sentimento won two Classical Brit Awards: "Album of the Year" and the "Biggest Selling Classical Album of the Year".
His last acclaimed operatic and classical performances include Tosca (Cavaradossi) on stage at the Puccini Festival in Torre del Lago, Werther (title role) on stage at the Teatro Comunale in Bologna, Carmen (Don José) at the Teatro dell'Opera di Roma, Cavalleria Rusticana (Turiddu) at the San Antonio Opera and at the Deutsche Oper in Berlin. He also sang Puccini's Messa di Gloria at the Teatro del Maggio Musicale Fiorentino in Florence, at the Teatro Filarmonico di Verona and at Teatro Carlo Felice di Genova, Petite Messe Solennelle at the Teatro San Carlo in Napoli, at the Teatro Massimo Bellini di Catania and at the Washington Opera under the baton of Placido Domingo.
He has given sold out recitals of Italian classical "Romanze" and liederabend in the world's most prestigious concert halls: Avery Fisher Hall di New York, Wiener Staatsoper, Opernhaus in Zurich, Philharmonie of Munich, Philarmonie of Berlin and Musikhalle of Hamburg.
In February 2011 he made his much awaited New York MET Opera debut, singing in a recital with the pianist Vincent Scalera.
In January 2012 he debuted the role of Roméo in Roméo et Juliette at the Teatro Carlo Felice di Genova under the baton of Fabio Luisi.
His discography include the album Verdi's Aria under Zubin Mehta's baton (made to mark the Verdi centenary),  the album Arie Sacre (1999; Sugar/Decca), La bohéme conducted by Zubin Mehta (2000; Sugar/Philips classic), Il trovatore, Cavalleria Rusticana and Pagliacci under the baton of Steven Mercurio (2004; Sugar/Decca), Tosca with Fiorenza Cedolins under Zubin Mehta's baton (2003; Sugar/Decca), Massenet's Werther conducted by Yves Abel (2005; Sugar/Decca), Carmen (2010; Sugar/Decca) and Andrea Chénier (Sugar/Decca), Manon Lescaut under the baton of Placido Domingo (Sugar/Decca), as well as the recent new releases of Turandot (2015; Decca) and Aida (soon available on CD Decca), both with Orchestra del Maggio Musicale Fiorentino under the baton of Zubin Mehta.
January 2016